Your wedding day is one of the most important days of your life, and it is understandable you want everything to be perfect. Wedding preparations and the excitement leading up to the big day usually cause a lot of stress and it might show on you if you don't make your look and overall wellbeing one of your top priorities. To help you look gorgeous on your wedding day, we give you a few tips and tricks.
Choose a stunning but comfortable dress

A stunning, flowing wedding gown
The bride's look very much depends on the dress. While it is perfectly alright to get an elaborately designed wedding dress, it is also very important that you feel comfortable in it. You will need to stand, walk, sit and dance in it, so you should be confident you will not slip or tear it. Rather than going for something fashionable at the moment, choose something that fits your figure and personality the best, something that brings out your best features.
Hire a professional make-up artist

Professional makeup
If there is a day when you should splurge on your make-up, then this is the one. You won't have to worry about getting it wrong by yourself, and a professional make-up artist probably has experience doing wedding day make-up and can give you excellent advice on how to freshen up during the day and what the right make up to get for the day is, and so on.
Don't leave your grooming for the last day

You don't wanna see any flaws in the mirror at this point
There are many things you can and should do a few days before the wedding. For example, to avoid redness and swelling, you should do waxing and eyebrow plucking and shaping a week up to three days before the big day. This also goes for tanning, skin rejuvenation treatments and teeth whitening. It goes unsaid that you will hire a hairstylist to do your hair for the wedding day, but it might be wiser to go with somewhat dirty hair since it stays in one place longer and much easier than washed hair.
Eat healthy food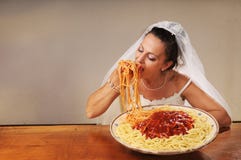 No, not like this!
We all know sugar can cause zits, pimples and skin irritation, so you should completely avoid it at least ten days to a week before the wedding day. Sodium, artificial foods, preservatives and junk food can also produce the same effects, so you would be well advised to watch what you eat if you want to have plump, youthful looking skin for your wedding. Switch to organic, whole foods like vegetables, fruits, nuts and fish in the weeks leading up to your wedding. If you are a smoker, cutting down on smoking will certainly improve your tan.
Get a good photographer

Remember - breathtaking photos like this one are not made by pure chance, they're made by remarkable wedding photographers
Your wedding photos will be one of your most cherished possessions and you will show them to the coming generations. That's why it is crucial to make the best of your wedding photography. Do your research, find someone whose style and approach you like, maybe even someone who specializes in wedding photography, like the photographers from Perfect Moment. Make sure you understand each other well and even arrange for a trial photo shoot.
Remember this is your very special day, and you should enjoy every single minute of it. Rejoice, smile and shine that beautiful love!